Big Ben Rotisserie 78
The only 4-point self-basting rotisserie on the market!
Single-Person Operation
Mouth-Watering Perfection.
Every time.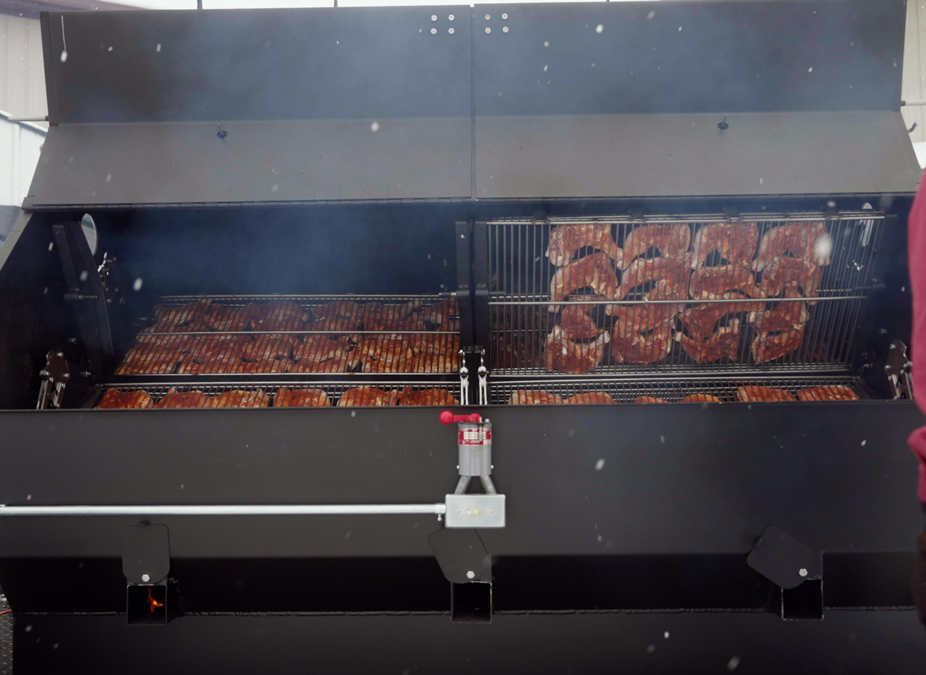 4-Point
Self-Basting
The Big Ben Rotisserie 78 offers continuously powered rotation and self-basting at every turn. Preserving flavor and moisture, this unit makes a wide selection of delicious rotisserie-style meals, including:
Chicken pieces or wings
Ribs
Pork Chops
Brats, potatoes and more!
Full-Chamber

Convection
Acting like a full-chamber convection fan, our innovative rotisserie regulates temperature for each grate full of meat.

Semi-direct exposure to upper and lower heat zones allows drippings to fall on the coals, preventing flare ups while also adding flavor.

Unlike other rotisseries, the Big Ben recycles juices with each rotation and saves fuel cost with minimal fuel increase per pound of meat.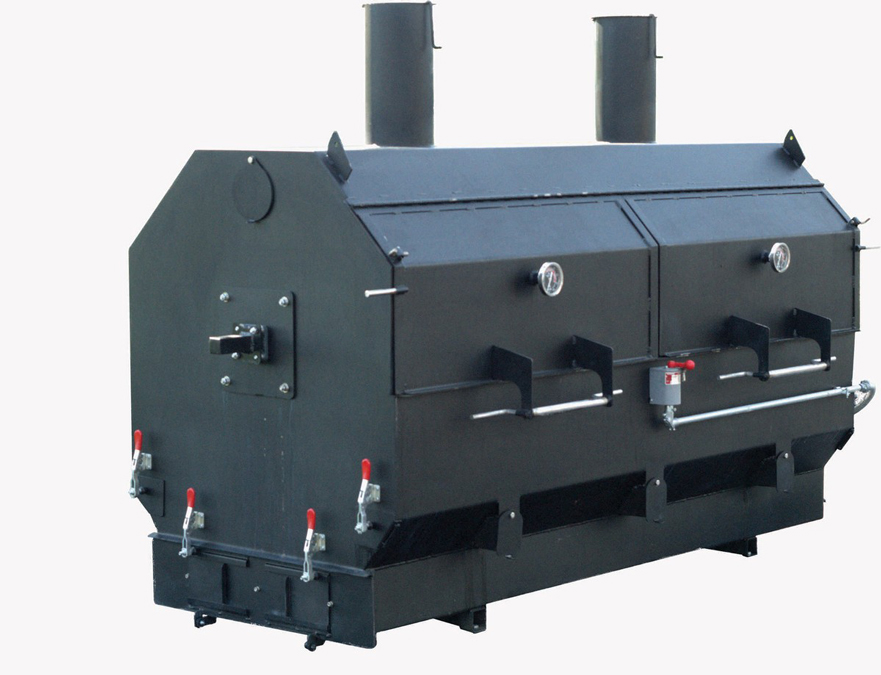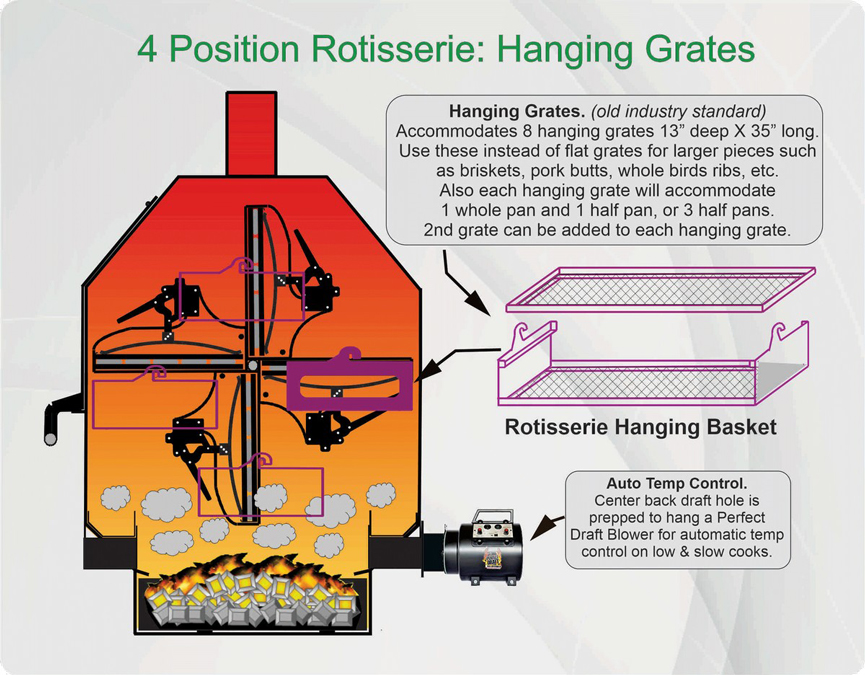 Flexible
Features
Single-person operation makes our rotisserie easy-to-use and convenient for all types of low and slow cooking. Switch out sandwich grates with hanging baskets for large pieces of meat or foil pans. Create savory meals with:
Whole Birds
Pork Butts
Briskets
Ribs
BIG BEN
IN ACTION
To understand how our rotisserie operates, read through the diagram below. Using the Big Ben is as simple as one-person operation and 4-point self-basting!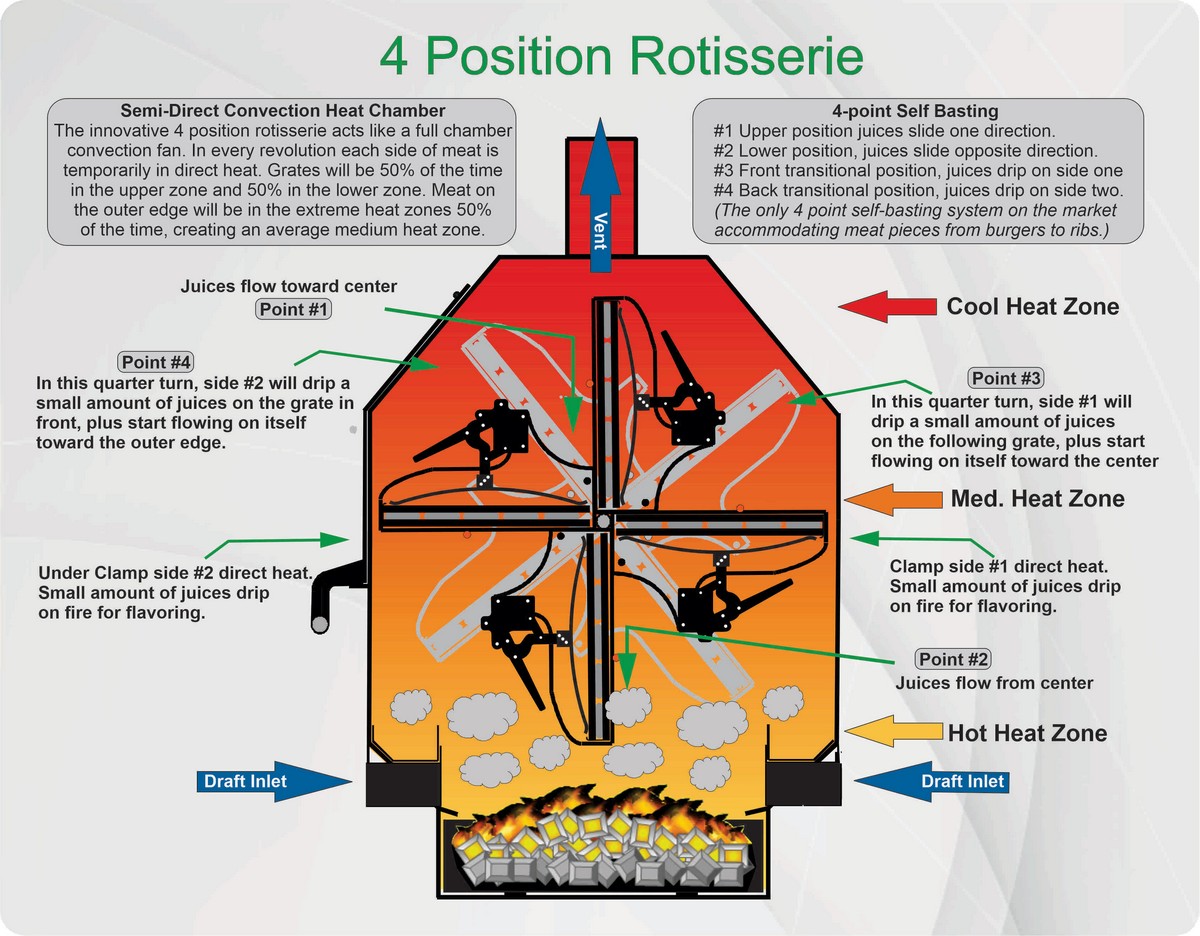 Big Ben.
Premier Features.
Size: 36" x 78"
Standard fuel: charcoal
Cool, medium, and hot heat zones
4-point self-basting
Single-person operation
Self-adjusting clamps
Continuously-powered flipping
8 Sandwich Grates: 16" x 32"
8 Hanging Rotating Grates: Optional
Pork Butt Capacity: 3, 10lb each per each grate
Bone-in Chicken: 180lbs
Trailer not included
Can be added to custom trailers
CHOOSE THE BEST ROTISSERIE.
GET A FREE QUOTE.
To invest in the most comprehensive rotisserie available, fill out the form below and receive your free quote!